Fathy Salama, was born in Cairo (Egypt). He started playing the piano at the age of six.. He began by learning, the roots of traditional arabic music up to Oum Kalthoum followed by the western classics, such as Bartok and Tchaikovsky...
He then studied jazz in Egypt and the United States with such great artists as Barry Harris, Hal Galper, Malik Osman, Pat Patrick and Sun Râ.
On 1980 / 1988 : Fathy composes and arranges for a variety of Egyptian stars ; Amr Diab, Ali Al Haggar, Anushka. These hits from Cairo, the Arab Hollywood, are well known throughout the Arabic world. He is one of the inventors of "jeel"
music, the Arab pop. He also begins to write film music.
1989 : He founds his own ensemble, Sharkiat. While playing his own compositions,he also blends traditional Arabic sounds with Jazz improvisation to form a new way of expression.
Sharkiat releases two CDs, Camel Dance and Camel Road. The group plays numerous concerts in Egypt, Switzerland, Poland, Netherlands, Germany, Italy, Belgium, Czeck Republic, Austria, Spain, Estonia, Croatia, Zimbabwe and Japan. In France, playing among others, in the Institut du Monde Arabe, Paris, Festival Paris Quartiers d'Eté and Festival Châlon dans la rue.
On 1991 / 1993 : He composes for the Egyptian National Theater.
1994 : Fathy founds his second group, and calls it "Gouzour". It performs traditional Arab music with percussion, traditional instruments, and vocalists, and presents the Arab rhythms and melodies of the Sudanese and Nubians and from the Persian Gulf, as well as classical Arab music. They tours in Egypt, Italy and in France (Festival Les Allumées de Nantes).
He also plays in the Berlin Jazz Festival with the German oud player Roman Bunka and Malachi Favors (bassist from the Art Ensemble of Chicago). The concert is recorded live for a CD Colour me Cairo.
1995 : Sharkiat plays two following evenings at the Institut du Monde Arabe in Paris, where he imposes a popular music, oriental way, strongly tinged with funk and digital jazz.
1996 : He creates for the Cairo Opera House a show with Manuel de Paula (voice) and Nino Carrion (guitar) to explore the relationship between flamenco and arab music.
On 1997 / 1998 : Sharkiat works with a rock group from Switzerland, The Maniacs
. Together they compose a CD Don't climb the pyramids and tour Egypt, Italy, Netherlands, Denmark and France with concerts in Transmusicales of Rennes, New Morning in Paris and dozens of provincial towns.
1998 : He gives a masterclass in the Rythm Conservatory in Copenhaguen : "East in West".
1999 : With English DJ's and Sharkiat he performs in the electronic music festival Big Chill at the Cairo Opera House.
2000 : He wins two first prizes in the International Film Festival of Cairo - the main one in the Arabic world - for the soundtracks of Fallen Angels Paradise's
and Signs of april.
He settles down in Paris and starts an artistic collaboration with Youssou N'Dour. For his forthcoming album he composes several songs mixing traditions from Senegal and Egypt.
2001 : With the collective of Parisian VJs Ya-K and the photographer Guillaume de Rémusat, he creates the first multimedia show around the electronic musics and the Egyptian traditional rhythms: "Kouchari".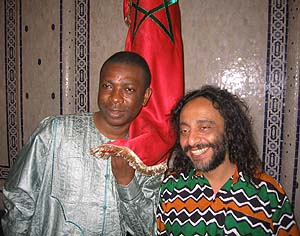 2002 : At the same time to its research on electronic music, Fathy begins a safeguard work of the traditional music with the creation of a new group The Rango Tanbura Group with which he gives a series of workshops for professionals but also for the public.
2003 : Signature with the French label Les Disques Sérieux : Kouchari LP and CD to be released in spring. Also, the first Karima Nayt album should be ready for this summer.
2004 : World wide release of "Allah, Egypt" (WEA Warner) by Youssou N'Dour with songs arranged by Fathy.